At moments, the tight packed sardine situation was frustrating, but there were helping hands to pull you through, or at least comforting voices when it just wasn't possible. When someone called for a doctor, four were pushed forward. Every citizen that was smashed against a stranger made a new friend that they loved and understood. The Women's March on Washington was like a massive hug, embracing approximately half of a million people--about three times the number of people that attended Donald Trump's Inauguration the previous day.
Celebrating this day of peace and love were familiar voices-- America Ferrera, Michael Moore, Ashely Judd, Madonna, and many others. Other cities were represented by popular voices, but also largely by the people: Los Angeles bringing in around 750,000, Chicago and New York City each with 250,000 people, and a number of other cities around the US with thousands of marchers. Even London held 100,000 people at their women's march, and they weren't the only international city to participate in this peaceful protest. To name just a few other cities: Dublin, Tokyo, Paris, Vienna, Cape Town, Sydney, Toronto-- even Antarctica participated.
Beyond the size and the widespread unity of this day, there were something else. There was sharing and helping and hope. There was laughter, but it was different than the previous day because it wasn't people laughing at protestors who they thought were pathetic. There was diversity, empathy, and inclusiveness.
When my feet were aching and my body felt like a bundle of torn ligaments, the women kept marching.
Sayre Hudson

&
Paula Hurwitz
Yellowsprings, Ohio

Sayre: "I feel its important to support women. The oppression with Trump is disgusting and we're not okay with it."
Arlington, Virginia

"[I am here to] represent women, Afro-Americans, and my civil rights."
Washington, D.C.

"[I am here] to show support. I know how much it means, as a black gay male, when support is received from allies. I wanted to do the same for women. Their bodies, their choice."
Brooklyn, New York

"I find inspiration in the fact that everyone feels the same way, and we're all fighting for each other."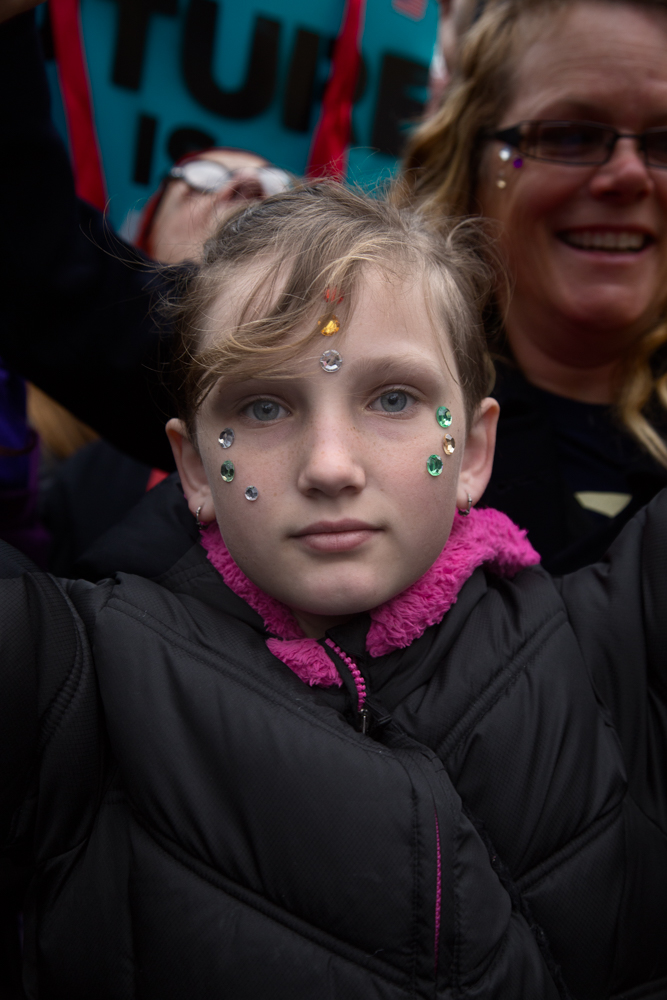 (11 years old)
Dallas, Texas

"Texas needs abortion rights. If you were pro-life, you should think abortion is good cause a life wouldn't go uncared for. I'm also here for cancer awareness because my aunt died of cancer. And because if they build a wall, the Rio Grande will be blocked off-- the same as the Colorado River."
(26 years old)
Philadelphia, Pennsylvania

"With gender being subjective, we are all just people... and this man and his cabinet-- I hope they do things that are good, but it doesn't seem that way. I was here yesterday and it didn't seem that way. So its important to be here."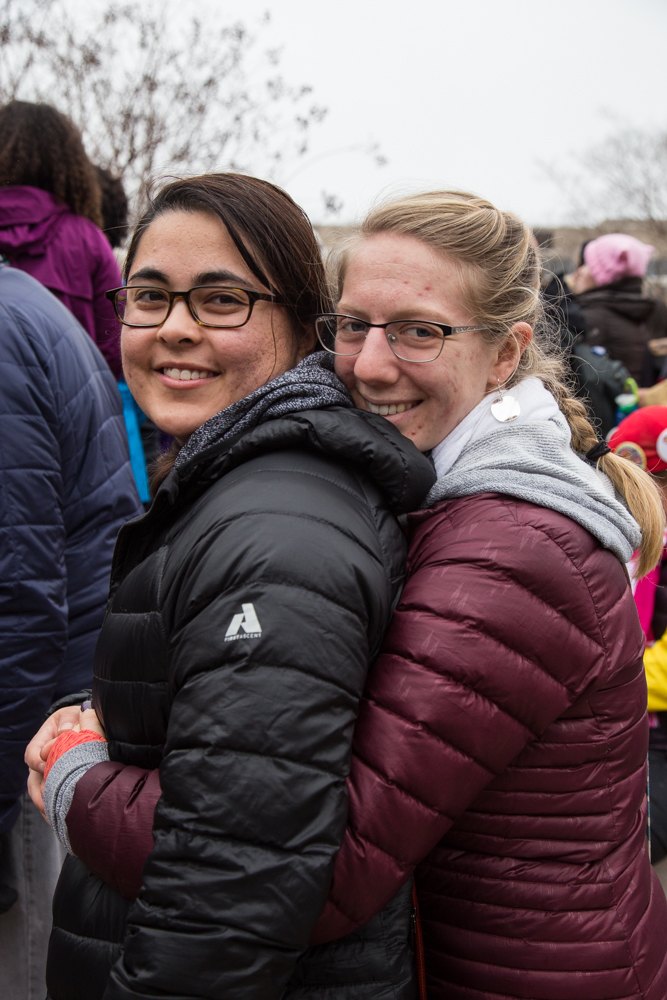 Musheng Alishahi
&
Olivia Fantini
Providence, Rhode Island

 
Olivia: "I teach 6th grade to majority immigrant low income students, and a lot of things are changing for them. But as a woman-- a queer woman-- I think there's a lot of reasons to be here today."
Amy Karcher
&
Robert Quatier
Fallbrook, California

 
Amy: "I believe people need a hand up and we need to fight for that hand because its going away right now."
(8 years old)
Charleston, South Carolina

"[I am here] because black lives matter."
Becky Mores,
Valeria Budinich,
Lorena Aguilar
(Left to Right)
Dominican Republic, Chile, Costa Rica
Becky: "[I came today because] this country has a responsibility, and I want to know that there will be global security, and that we will fight to combat climate change, and women's rights here and globally. This country affects the whole world."
Valeria: "This is not normal. We have to stand up."
(23 years old)
Athens, Ohio

"If it were possible, it would be important for every citizen to be here today. Its important during this ugliness for us all to come together. Because I'm not powerless. And I will march in a corset to feel what it was like for a suffragette."
Jodi Sherman
&
Harriet Hopf
New Haven, Connecticut
&
Salt Lake City, Utah

Harriet: "[I march because] I have a 19-year-old gender fluid child. My mom marched at the 1969 "I Have a Dream" speech, and at the Peace March. I have to carry it on."
Jodi: "We're both physicians, and as a physician, I know that pollution is bad for health. A clean environment is good for health. Deregulation is not the way to go, and repealing the ACA and not funding Planned Parenthood will bankrupt the healthcare system, in short order. Hospitals will treat anyone and without funding, the system will collapse."
(22 years old)
Washington, D.C.

"[I march to] send a strong message to the government that the people are not happy. People have been dehumanized and oppressed. It hurts me to know that people are in fear for their future, and its important to send a message in a peaceful way."
Natalie Obermaier
&
Jeremiah Webster
Los Angeles, California

Natalie: "We can move forward towards progress instead of moving backwards. [We need to focus on] unity, peace, and the positive things in life, instead of the hate that he represents."
Jeremiah: "[I came to] stand with all of these beautiful women, and to amplify their voices."